Summer is here! For many of us, summer means a switch to more casual and cotton clothes. Still, we want to look stylish! However, there is a special cloth – denim jacket to add style to any basic outfits. Yeah, denim jacket can easily be incorporated to touch your overall look either in a flirty and fun mood.  Some of us are die-hard fan of classic women's denim jacket like a perfect wardrobe essential.
The jean jacket can upgrade your summer outfits, even with casual short dresses. In cool nights of summer, a denim jacket jazz up your cozy top layer whether you are dressing for an event or going out for a date. Take a cue from different ways and you can rock your denim fabulously, even in too much hot days. Here are some inspirations for you.
Denim Jacket with Maxi Skirt
This summer you will be seeing this Maxi everywhere. Maxi dresses are still going trend in women's fashion, now you can look fresh by combining it with the denim jacket.  Pick a short denim jacket for the complimentary look in this summer outfit. Furthermore, you can tuck your top to show off your waist shape.
You can give final touch-up in your look by wearing bead necklace and cat eyes shades.
Track Pant and Denim Jacket
It's also going to give an alluring look, if you wear a short denim jacket with track pant. Whether you are going for a casual walk on street, a denim jacket makes an amazing layer with trendy track pants that you have in your wardrobe.
Denim Jacket with Sort White Dress
My all-time favorite color is white! Hopefully, you also love the white color. You can try dark color denim jacket with mini dress. Believe me; it will give a soothing effect!
It's also a great choice to cover up when you are going for a shopping or for a family dinner party. For date night or to create modest look anytime, wear booties or high heel sandals. You will feel glad in this look. Don't wait and try this look, absolutely you will look amazed!
Jean Jacket with Denim Shorts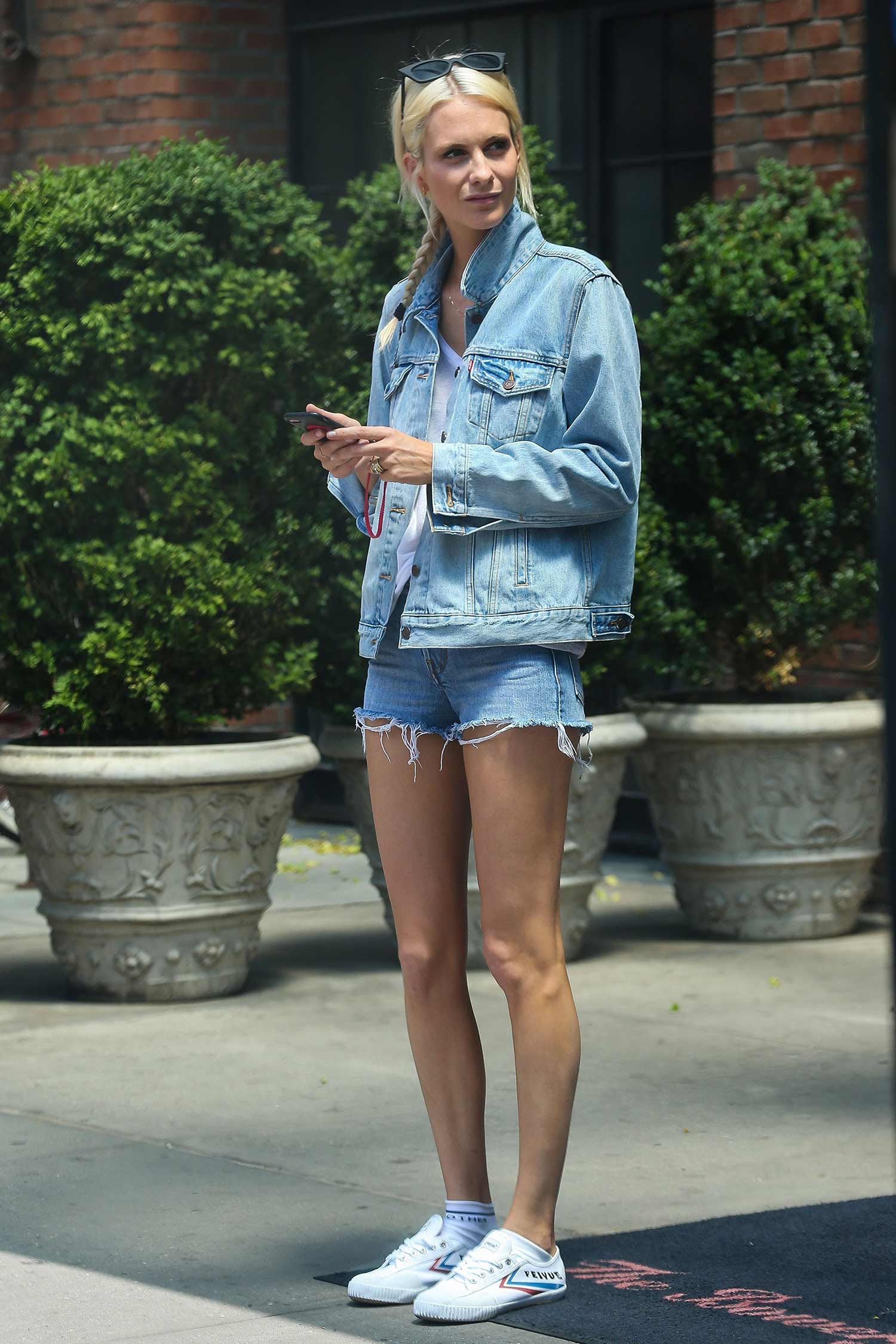 The current fashion trends the denim shorts outfits, and we love it. You can grab this look by the well-fitting pairing of Jean jacket with dark denim shorts. This is the best way to add a dose of fashionable style and to a sexy look in this perfect combo.  You can choose your favorite color of denim to more streamlined look.
Denim Jacket with Culottes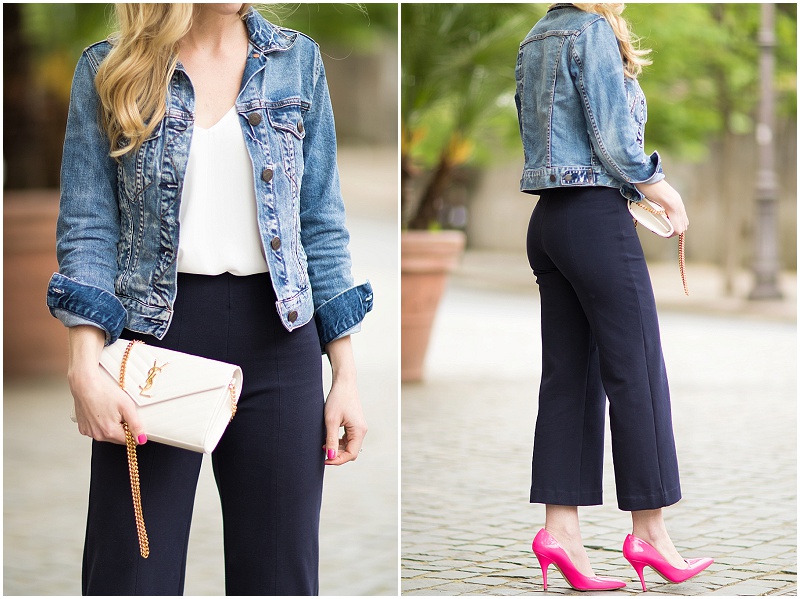 Don't limit yourself while choosing a denim jacket; you can easily explore various colors as per your choice. For an ultra-modern look, pair a relaxed denim jacket with wide-leg culottes on causal weekend days. To add more grace to your look, you can wear blue sneakers and carry a clutch bag.
Denim Jacket with Black Jeans
If you have a plan to hang out with someone special, you can pair your black skinny jeans with crop denim jacket. Surprisingly it will be cool style. To add feather in your look, pick a white tank top, black shiny boots and keep your hair open. You can attend the client meeting also in this outfit.